The Bauhaus Kooperation
The Bauhaus Kooperation is a joint venture of the three Bauhaus institutions in Berlin, Dessau, and Weimar that hold the most extensive collections. On behalf of the Bauhaus Association and taking the form of a limited liability non-profit organisation, it assumed responsibility for Bauhaus 2019 centenary and the administrative and business duties. The Bauhaus Kooperation will continue to operate as a non-profit after 2019 to implement joint projects among the institutions.
Grand Tour of Modernism
From north to south, from east to west: The locations of the Grand Tour of Modernism will guide visitors through the past hundred years of the History of Modern Architecture.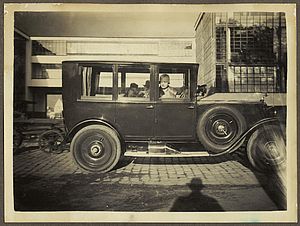 That was 100 years of Bauhaus
Under the title 'Reinventing the world', on the occasion of the Bauhaus Centenary 2019 the Bauhaus Verbund 2019 in association with regional, national and international partners invited the public to rediscover the historical artefacts of the Bauhaus as well as the school's significance now and for the future. The centenary programme 100 years of Bauhaus provided the framework for this.