Triennial of Modernism 2022
Save the dates
The motto for the 2022 event year is 'Living.Work.Life.' This triad of three interpenetrating spheres highlights aspects of Modernism that still concern us today. The ideals of Modernism were closely linked to the development of modern societies and their urban centres that began in the course of industrialisation. In addition to architecture, urban planning, art and design, this also includes people's hopes for far-reaching reforms and a better future through more social justice, emancipation, participation and democratisation.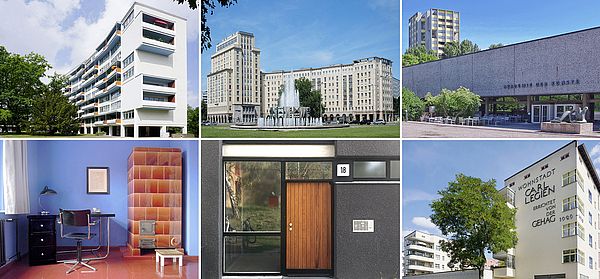 History
The initiative Triennale der Moderne (Triennial of modernism), launched in 2013 and held in Berlin, Weimar and Dessau, focuses on the global legacy of architectural modernism in Germany. All three cities have UNESCO World Heritage Sites from the Modernism 1920s that deserve more attention. In a three-year rhythm, the heritage of the era, which is groundbreaking in terms of culture, architecture and the history of ideas and continues to have an impact to this day, will be brought into public focus through a wide range of programme offerings. The exact programme will presumably be fixed from summer 2022 and will then be announced here.
Save the date
After the kick-off on 30 September 2022 in the Czech Embassy in Berlin – a significant building of late Brutalism –, Berlin, Dessau and Weimar will each have a wealth of their own programme offerings. The focus will first be on Berlin, then on the following weekend on Dessau and finally on Weimar from 14 to 16 October. In keeping with the cross-city motto, appropriate focal points will be set locally. In addition to tours and architectural visits, exhibitions, installations, performances, lectures, discussion events, symposia, interactive formats, films and videos, audio and video walks, live streams and digital media offerings are planned.
Dates
30 September to 3 October: Kick-off weekend in Berlin
7 to 9 October: Programme highlights in Dessau
14 to 16 October: Programme highlights in Weimar
More