Sculpture
1919–1930
At the Bauhaus in Weimar the main activity of the workshops for stone and wood sculpture was to perform tasks for other workshops. In Dessau the two were merged into a single sculpture workshop.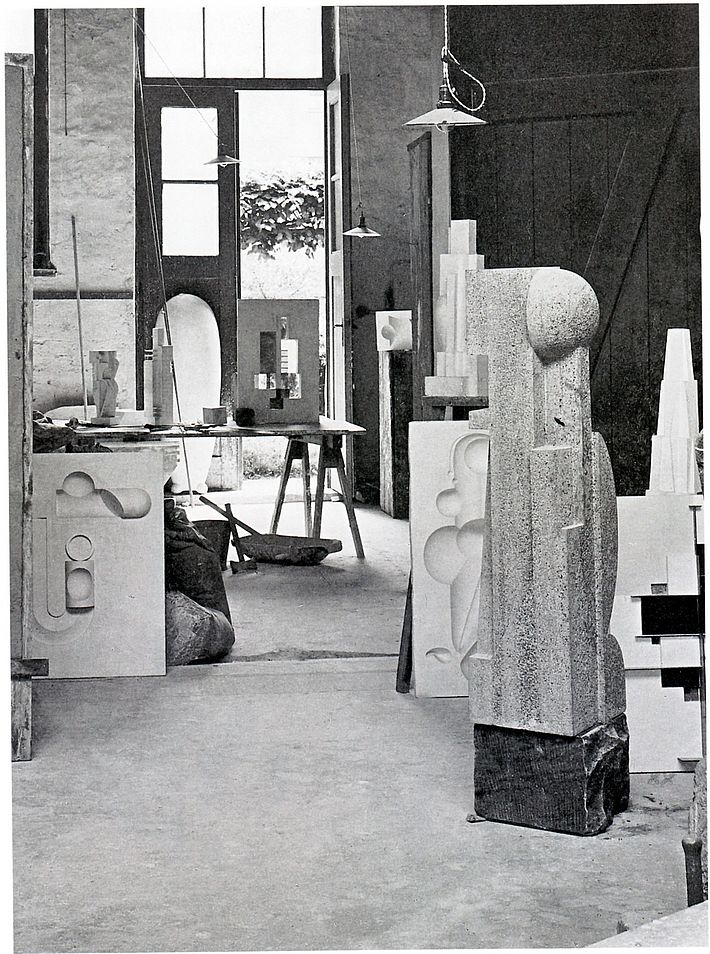 Masters and Teachers
Johannes Itten
Oskar Schlemmer
Josef Hartwig
[Translate to English:] Headline
According to the academic tradition, there were two sculpture workshops at the Weimar State Bauhaus – one for stone and one for wood. Beyond the production of free art, these workshops – which were essentially directed by Johannes Itten and Oskar Schlemmer – primarily supplied models for the rest of the workshops such as architectural models for the architectural office of Walter Gropius, plaster models for the ceramics workshop, chandeliers, masks and sculptures.
The wood sculpture workshop received its largest commission in 1920–1921 with the execution of the carving work for the House Sommerfeld, a house designed completely with wood. The designs for the doors, stair cladding and mural reliefs by the apprentice Joost Schmidt were outstanding. The stone sculpture workshop participated in the 'Monument to the March Dead' from 1921–1922 according to the plans of Walter Gropius and in the furnishing of the school and workshop buildings for the Bauhaus Exhibition of 1923.
The workshops were no longer included after Dessau. Instead, a plastic arts workshop was established under the direction of junior master Joost Schmidt. With his 'instruction in elemental sculpture,' Schmidt concentrated on the art pedagogical communication of the spatial. The activities in this workshop were translated into practical terms by building models, designing exhibitions and producing creations for the stage. Schmidt presented trend-setting exhibition designs with the stands at Berlin's 'Gas and Water Exhibition' of 1929 and the 'International Hygiene Exhibition' in Dresden in 1930.