A Museum is more than its Exhibitions
Conference with International Museum Experts
How can our new Bauhaus museums become open, lively and visitor-oriented places? This question provided an overall theme for the Annual Conference #1 of the Bauhaus Agents Programme, taking place in the Bauhaus-Archive / Museum für Gestaltung on October 16th and 17th, 2017.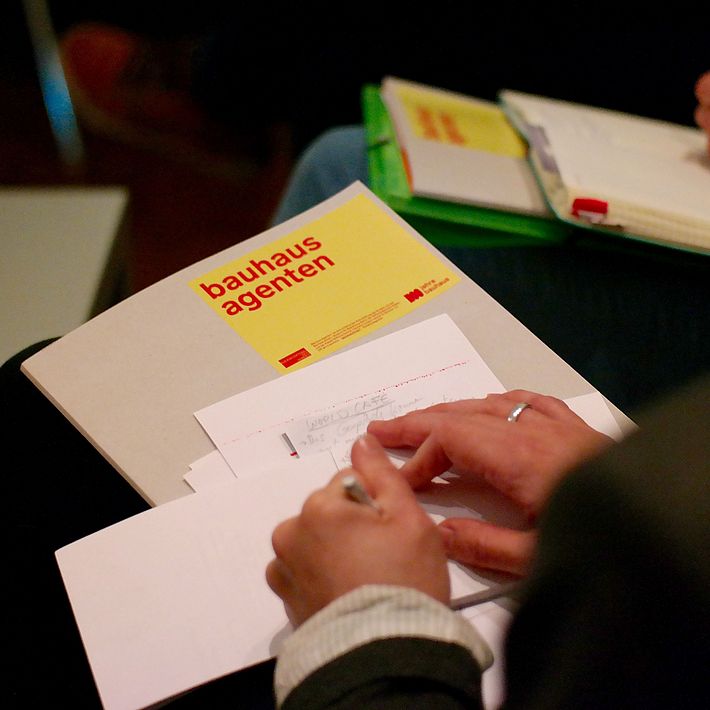 We achieved our aim to bring together the individual protagonists from museums, schools, and cultural and educational institutions in dialogue, so consolidating a mutual exchange of experiences.


Silke Feldhoff
Headline
The conference provided valuable impulses for further work in the model programme, which holds a unique place on the German museum scene. In the first year of the programme, which started in the school year 2016 / 17, more than 50 projects were already initiated together with 35 partner schools in Berlin, Dessau and Weimar. The programme ends in the school year 2019 / 20.
At the start of the programme's second year, around 50 conference delegates from the Bauhaus institutions and the participating schools held discussions with international museum and outreach experts. New starting points for museum development and artistic intervention in public space were on the agenda, as well as the significance of outreach and inreach formats. The programme encompassed keynote addresses on the importance of museums as settings of encounter and exchange, as a catalyst for social interaction, cooperation and production. Practice reports presented current strategies to trigger communicative processes in public space, to strengthen the institutions as places of productivity, and to open up cultural institutions to new target groups.
Speakers were:
Catherine Ritman-Smith, educational director, Design Museum, London
Grit Weber, deputy director, Museum für Angewandte Kunst Frankfurt/Main
Dr. Dorothee Höfert, director of education and outreach, Kunsthalle Mannheim
Ines Aubert and Markus Blösl, Stiftung Freizeit, Berlin
Dr. Jonas Fansa, director of public services, Central State Library, Berlin
Mustafa Akca, project director and diversity representative, Komische Oper, Berlin