App Bauhaus Dessau
The free "Bauhaus Dessau" app accompanies interested parties on an exploratory tour through the Bauhaus city of Dessau. The app, developed by MicroMovie Media GmbH, leads with an interactive map to the original Bauhaus buildings such as the Masters' Houses, the Bauhaus building or Walter Gropius' employment office. The new Bauhaus Museum of the Bauhaus Dessau Foundation is also represented with current service information, events and maps.
Even places in the Bauhaus building that are otherwise only accessible within the framework of guided tours can be experienced via the app: 360-degree panoramas show the assembly hall with stage, the cafeteria, Walter Gropius' former director's room, a historic student room and the roof terrace of the studio building that housed the students' and young masters' studios.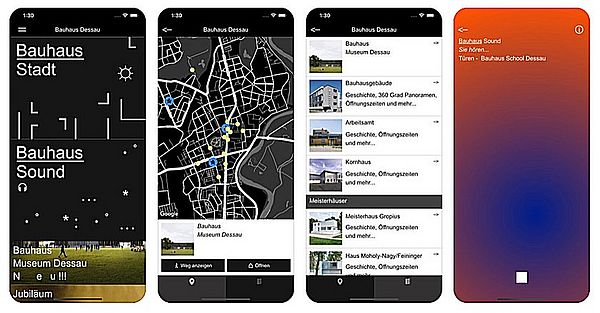 Part2
A very special feature is the work "Bauhaus Sound" by the Berlin composer and sound designer David Kamp. The unique sound composition enriches the exhibitions and buildings with an experimental sound level. It comprises more than 100 sound elements from which an infinite sound composition is created. The basis and sound material are acoustic miniatures on Bauhaus themes - developed from recordings of rooms, workshops, design objects and historical materials from the Foundation's building research archive. The audio elements are randomly recombined again and again - so every listener listens to a very individual composition. An atmospheric backdrop of noisy and musical sounds, created by tapping, stroking and rubbing glass, metal and stone, the pure spatial atmosphere of the Masters' Houses and underscored with fragments of Bauhaus poems.