Schools of Departure
Digitisation project by the Bauhaus Dessau Foundation
Under the title 'Schools of Departure', the Bauhaus Dessau Foundation has developed a digital atlas that brings together research on the global interrelationships of Bauhaus pedagogy with reform projects in design teaching in the 20th century.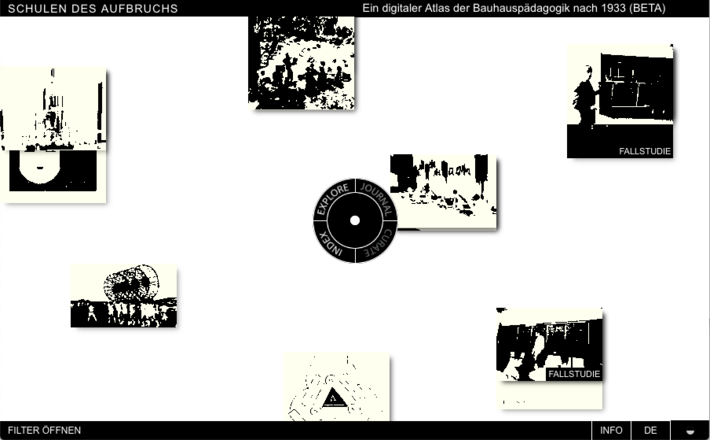 The digital atlas
The digital atlas illustrates in which institutional forms and in which particular local or geopolitical context aspects of Bauhaus pedagogy were translated and thereby further developed. In a series of essays, interviews with contemporary witnesses, photographic and film documentation of archive materials, international school experiments such as New Bauhaus Chicago, National Institute of Design (NID) in Ahmedabad or Werkkunstschulde Krefeld are presented and mapped in the network.
Modern mapping techniques create a dynamic spatial visualisation of data sets on art and design schools after the Bauhaus. Designed and programmed by Offshore Studio from Zurich, the platform is currently available in a beta version and will be expanded with new modules and functions by the end of 2022.
Schulen des Aufbruchs - Trailer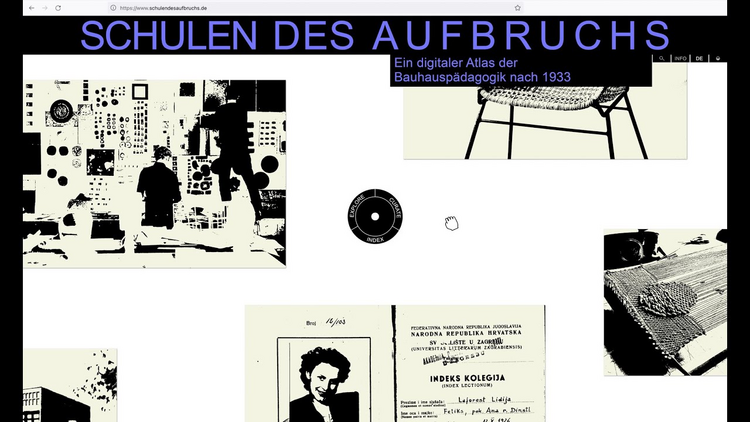 The Website
On the website a light table assembles picture documents on various school experiments. The content on the schools can be searched, filtered or sorted thematically using the cockpit in the middle of the table. Initial case studies on universities in Brazil, Albania, Sweden, Great Britain and the former Yugoslavia were developed in the course of a one-year project.
AAA
One of the schools presented is the Academy of Applied Arts (AAA) in Zagreb, which existed from 1949 to 1955. Its radical educational model was based on the Bauhaus legacy, and yet the example makes clear how inadequate the conventional interpretations of the terms 'centre' and 'periphery' are (read here).
Instead of assuming the 'influence' of the Bauhaus and the Bauhaus as a 'centre' with movement to the non-European 'periphery', the digital atlas makes the manifold interconnections visible.
Schools of Departure. A digital atlas of Bauhaus pedagogy post-1933
To the website (beta version)