The Bauhaus Perspective on Green Spaces
Modern landscape gardening and landscape architecture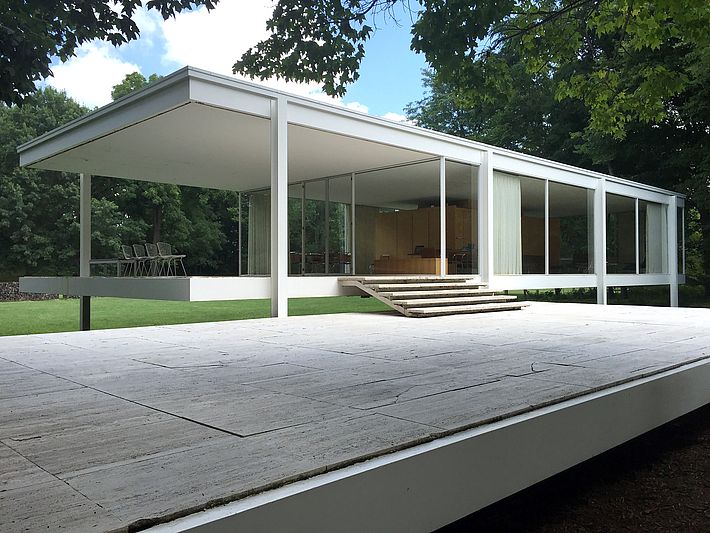 no
The way homes were planned by the Bauhaus made interiors inconceivable without exterior spaces. In fact they could not be shaped without them. Bauhaus architects opened façades, allowed light to enter into the building and guided people's views towards the outside world. One underlying idea of the Bauhaus was the unity of interior spaces and exterior surroundings. The skeletal steel building method enabled monumental glass façades with entirely new visual relationships. The Bauhaus sought to move away from housing rows in favour of free-standing cuboid buildings. But what surrounds them? And what exterior environment does one wish to see from inside? Who shapes that outdoor space?
Landscape gardening not taught
Designing areas around the new, minimalist-formalist buildings was not an officially taught subject at the Bauhaus. Landscape gardening or landscape architecture, the artistic study of shaping exterior spaces, was not regarded as training for a specific profession. Although there were repeated efforts to open a garden art class, the idea never made it beyond the drawing board.
Mies van der Rohe was one of the few Bauhaus architects who also conceived and planned the exterior spaces around his buildings. To implement gardens, terraces, courtyards and squares, he sought advice from experts, including the Berlin gardener and garden philosopher Karl Foerster. In the early 1930s, a circle of landscape gardeners and landscape architects gathered around Foerster, a perennial cultivator, seeking a connection between the building, the city and landscapes. Later, the married couple Hermann Mattern and Herta Hammerbacher sowed the seeds of this new modern school of gardening and landscape architecture.
The inner character of a landscape
They were convinced that architecture and nature could achieve a perfect harmony if they were mutually dependent on and permeated each other. Thus, instead of focusing on decorative blooms, something beautiful to behold, they tried to grasp the "inner character of the landscape". Their nicknames "Hügel-Hermann" and "Mulden-Hertha" ("Hill Hermann" and "Hollow Hertha") reflect how their design approach was orientated towards the existing terrain, accentuating it with mounds and excavations. These aspects of the formal language, creating spaces through recesses and mounds, the planting of hedges and walls, as well as perspective views through the terrain, were all new.
The approach was regarded as a modelling process, an art, structures designed to create a harmonious mood and "tonal melodies". As a counterpoint to the new architectural materials, the garden design of the times used the natural materials of earth, soil, stone, water and plants. It is unclear whether that playful and moving counterpoint represents a deliberate reaction to Bauhaus formalism. Presumably, landscape design developed in parallel with the Bauhaus, since the Weimar Republic was generally a period of new beginnings and reorientation.
Shaping urban landscapes
However, as it developed in parallel to the Bauhaus, landscape gardening and landscape architecture did not stop at gardens and regarded their task as shaping all non-developed living spaces. So ultimately, the aim was to form urban landscapes. "From our perspective, the core of a Bauhaus garden could be described as developing an open space that exists in a dialogue with the architecture as a place of social encounter," as Oliver Toellner, Head of Planning and Exhibition Concepts at Bundesgartenschau Heilbronn 2019 GmbH explains. "When planning this year's BUGA garden show in Heilbronn, we asked ourselves: where else can a human scale be found? What requirements must an open space fulfil in the architectural context? How can the dialogue be translated formally?" Toellner does not see a formal debate in Modernity per se in the sense of "cubist architecture versus landscape architecture modelling" and prefers instead to seek the form of urban spaces."
It is precisely that kind of research that became increasingly important to the Bauhaus. Landscape architects such as Leberecht Migge transform the social relevance of open spaces near housing into consistent, urban land use. Today, we see the phenomenon of urban gardening in major cities all around the world, bringing nature into the city and consolidating the apparent ideal of self-sufficiency, but these ideas are much older, not least as a result of the post-war years. For instance Migge looked westwards to the English idea of a garden city, the fundamental reform of metropolitan housing development and urban planning. In that respect, the approach is compatible with the Bauhaus, since it is a holistic view of green spaces – just as the Bauhaus always took a variety of different crafts into account. The aim was usability and the satisfaction of everyone's needs. Migge integrated playing areas for children, communal rooftop gardens, quiet areas and places for waste disposal in open spaces.
Air, light, sun – and space for exercise
Georg Pniower had a similar approach to his work as a landscape architect in Berlin in the 1920s and 1930s, integrating the Bauhaus motto of "air, light, sun" into landscape architecture. He regarded his task as supporting the "health of the general public", giving people enough air, light, sun and exercise in an attempt to counteract the spread of typical epidemics.
Such themes are familiar in today's dense urban areas. Waiting times for allotments are as long as those for day care centres. Recently, the communal rooftop garden of a joint building venture in Friedrichshain was named the "most beautiful rooftop garden in Berlin". Beehives decorate balconies in inner cities. The interior has permeated the exterior and green spaces are integral elements of living space. Communally used green areas are replacing private front gardens as places where people meet.
Oliver Toellner from BUGA Heilbronn also regards planning as a combination of different crafts: "The landscape architect must think like an urban planner, while the civil engineer must think like a gardener and the hydraulic engineer must think like a building architect. Our motivation is interdisciplinary work, testing and researching on the city of the future, which starts with the Bauhaus and has the aim of developing a liveable city that has attracted people back to the formerly derelict railway estate by the River Neckar."
More articles on this topic: