Announcement of the 8th Bauhaus Evening: Recital by Helge Lindberg
Friedl Dicker, 1920
Beginning in 1920, the Bauhaus evenings – with lectures, concerts and recitals – became a Bauhaus tradition that complemented the curriculum under all three directors.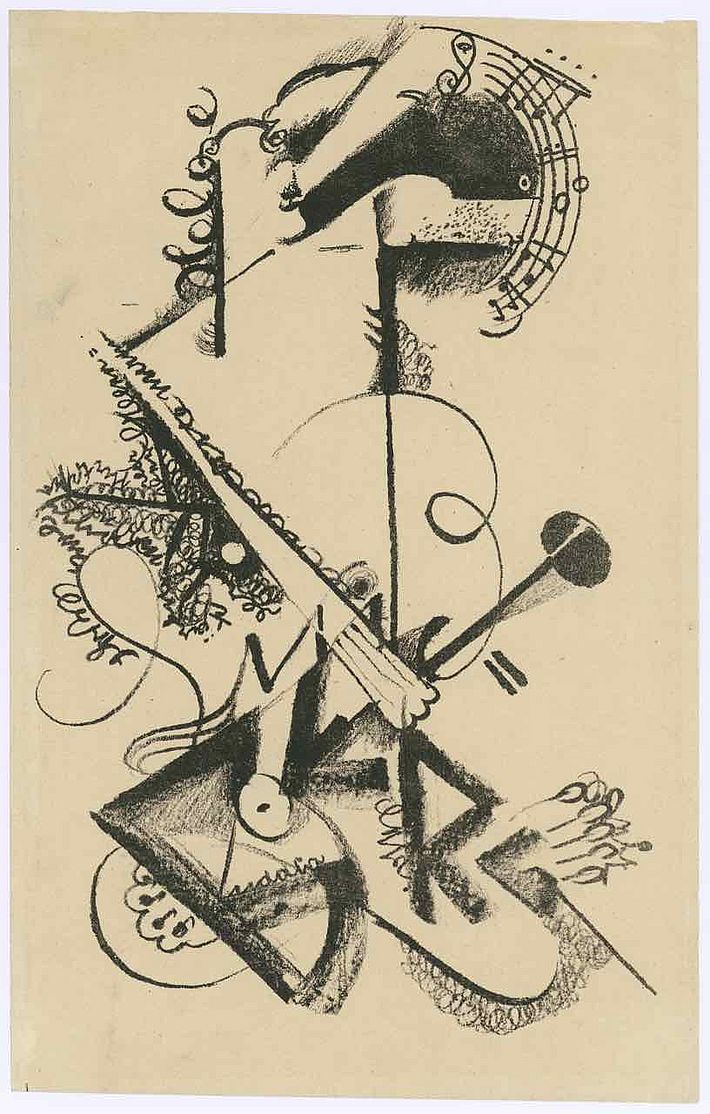 [Translate to English:] Text
In the initial programme for the Staatliches Bauhaus Weimar, Walter Gropius had already declared "lectures on subjects of general interest in all areas of art and science" as part of the scientific and theoretical training at the Bauhaus. In early 1920, the planning began for a lecture programme with important figures from the fields of art, music, poetry and philosophy. The evenings were meant to "bring the intellectually engaged public of Weimar into direct contact with all the important issues and manifestations of art, old and modern alike, (...) be a continual source of inspiration for the members of the Bauhaus and (...) foster the connection between the artistic city of Weimar and all intellectual centres in the Reich." – according to a brochure about the Bauhaus evenings (see Bernhard). Eminent personalities such as the art historian and Reichskunstwart(Reich arts warden) Edwin Redslob, the art historian Wilhelm Worringer, the painter and educator Adolf Hölzel, and the architects Bruno Taut and Hans Pölzig, along with many others, were guests in Weimar in the years that followed.
The first Bauhaus evening featured the expressionist poet Else Lasker-Schüler and was held on 14 April 1920. She read from her works "Hebräische Balladen und andere Gedichte" [Hebrew Ballads and Other Poems], "Der Scheik" [The Sheik] and "Abigail I., Prinz von Theben" [Abigail I, Prince of Thebes] and deeply impressed the Bauhausler "with her staccato verses", as Helmut von Erffa recalled (see Bernhard). The evening was announced with a flyer whose title page was embellished with a lithograph by Bauhaus member Friedl Dicker. The announcements for the 8th and 12th Bauhaus evenings were also made by Dicker: a recital by the Bach singer Helge Lindberg on 3 July 1920, with works by Johann Sebastian Bach and Georg Friedrich Handel, and the last Bauhaus evening of the year on 17 December 1920, with the Viennese soprano Emmy Heim. For all three artists, Friedl Dicker designed spirited lithographs with expressively curved lettering that she combined with symbolic references to the each performer's artistic oeuvre, such as pillars and palms for Lasker-Schüler or notes and instruments for Lindberg and Heim.
[NO 2018; Translation: DK]
Literature:
Bernhard, Peter (2009): Die Bauhaus-Vorträge als Medium interner und externer Kommunikation, in: Rössler, Patrick (Hg.): bauhaus kommunikation. Innovative Strategien im Umgang mit Medien, interner und externer Öffentlichkeit, Berlin.
Bernhard, Peter (Hg., 2017): bauhaus vorträge. Gastredner am Weimarer Bauhaus 1919–1925, Berlin.
Hövelmann, Katharina (2018): Bauhaus in Wien? Möbeldesign, Innenraumgestaltung und Architektur der Wiener Ateliergemeinschaft von Friedl Dicker und Franz Singer, Univ. Diss., Wien.