The Bauhaus Comes from Weimar
Exhibition | Weimar
Featuring contemporary architecture and innovative exhibition design, the Bauhaus Museum Weimar presents numerous treasures from the world's oldest Bauhaus collection for the first time.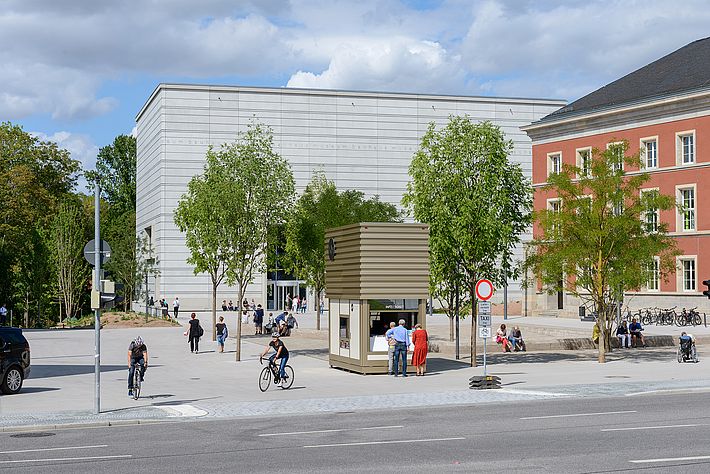 headline
In 1925 Walter Gropius established a collection of Bauhaus works with just 168 workshop pieces. Since then the Bauhaus Collection has steadily grown to 13,000 items. These include the famous table lamp by Wilhelm Wagenfeld and Carl Jakob Jucker, the teapot by Marianne Brandt, the lattice chair by Marcel Breuer, ceramics by Theodor Bogler, carpets by Gunta Stölzl and Gertrud Arndt and works by Paul Klee, Peter Keler and László Moholy-Nagy. Impressive paintings, such as Lyonel Feininger's "Church of Gelmeroda XI" and Paul Klee's "Water Park in Autumn", outstanding pieces of furniture by Mies van der Rohe and the Ludewig Collection exemplify the remarkable development of the most influential school of art and design of the 20th century.
headline
In addition to presenting iconic designs and newly discovered historical documents, "The Bauhaus Comes from Weimar" highlights the lifestyle issues, utopias and experiments of the early Bauhaus and the 1920s. Based on the fundamental question "How do we want to live together?", the exhibition examines numerous Bauhaus ideas which remain relevant to this day. In this way, the new bauhaus museum will serve as a venue for encounter, openness and discussion.
The exhibition offers visitors diverse sensory experiences, for example, in the Theatre Room inspired by László Moholy-Nagy's multimedia experiments. It also introduces them to practical workshop techniques – from Bauhaus-era bookbinding to cutting-edge 3D printing. The museum has adopted various pedagogical approaches pioneered by the Bauhaus in Weimar. It examines the standardisation and analysis of the "New Man" and explores how the Bauhaus aimed to improve modern living based on the example of the Haus am Horn.
Permanent exhibition
Address
Bauhaus-Museum Weimar
Stéphane-Hessel-Platz 1
99423 Weimar
Germany
Opening hours
Wed–Mon 9:30–18 h
Tue closed