Members of the Bauhaus Band with Oskar Schlemmer
T. Lux Feininger, around 1928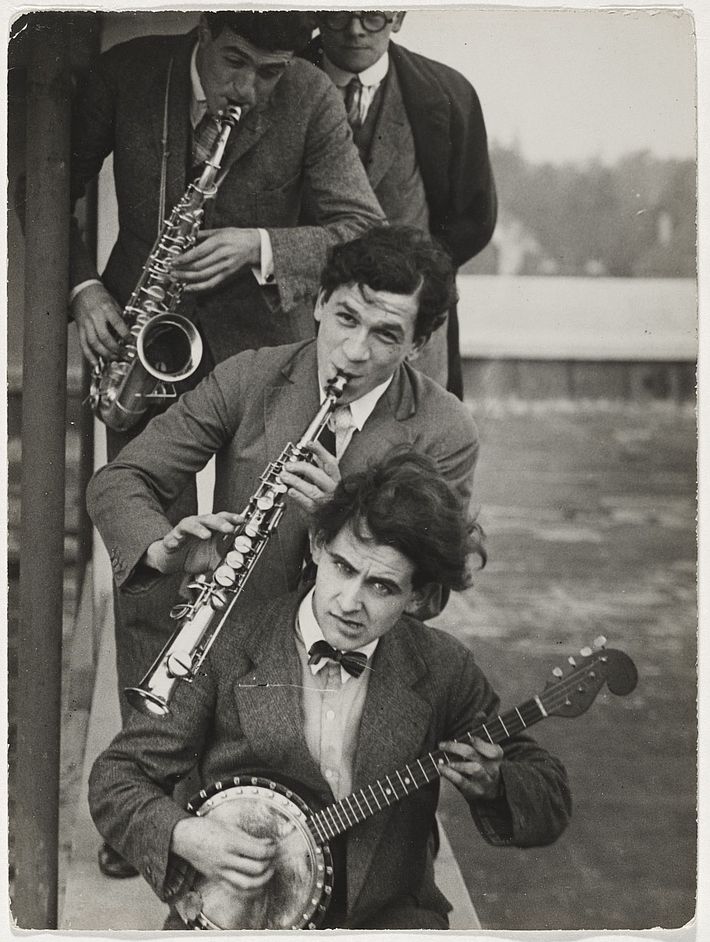 [Translate to English:] headline
Theodore Lucas (Lux) Feininger (b.1910), youngest son of the painter and Bauhaus master Lyonel Feininger, spent most of his childhood and adolescence at the Bauhaus in Weimar and Dessau. Shaped by this creative environment, he developed an interest in photography, self-taught, at the age of 16. In 1928, Feininger signed a contract with the Berlin photo agency Dephot.
It was photos like the one of the members of the Bauhaus band that brought him worldwide fame. They convey vitality 'joie de vivre' and enjoyment of the arts, as well as the fashionable taste of the time. Using the stylistic means developed in the 'Neues Sehen' (New Vision) – extreme close-ups, steeply angled top or bottom views, and trims that cut through bodies or faces – Feininger again and again produced brilliantly dramatized snapshots. Looking back, he thought these dynamic shots from his youth had probably been intended as a criticism of the Bauhaus masters, who very often took themselves far too seriously and had to be brought down to earth.
The Bauhaus orchestra was founded by Andreas (Andor) Weininger during the Bauhaus's Weimar period. The strongly Expressionistic phase of the State Bauhaus also emerged in the style of the orchestra's music, intended as a 'spontaneous product.' Inspired by the folk melodies of eastern European peoples, the Bauhaus orchestra played the 'Russian' and the 'Hungarian', the 'Unika' and the 'Matuto' (the names of which suggest a derivation from the Mediterranean region), or the 'Bo-la-bo' (influenced by Dadaism). The best-known Bauhaus melodies were the 'Bauhaus Whistle', the start of which '... could be sung to the words 'Itten-Muche-Mazdaznan''. After the move to Dessau, the band finally turned more and more towards American jazz. Starting in 1928–1929, Lux Feininger himself also played clarinet in the orchestra, fulfilling a long-held ambition.
Literature:
Feininger, T. Lux: Die Bauhauskapelle. Ein Beitrag zur Geschichte des Bauhauses, Typoskript, Bauhaus-Archiv / Museum für Gestaltung.
Feininger, T. Lux (1980): Photographs of the Twenties and Thirties, New York.
Feininger, T. Lux (2006): Zwei Weltem. Mein Künstlerleben zwischen Bauhaus und Amerika, Halle.