Harmonisation theory
1919–1924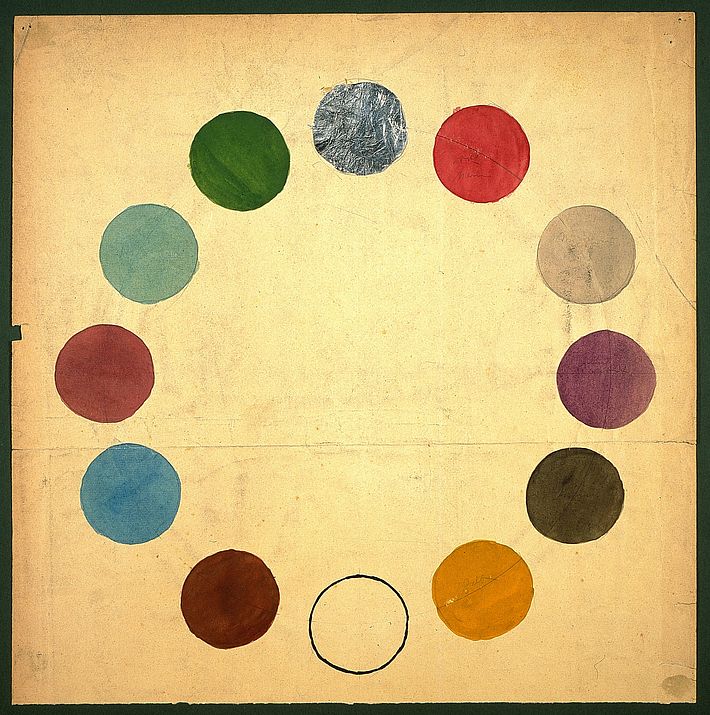 Headline
In the early 20th century, the musician Gertrud Grunow had developed her own music theory exploring the basic relationships between colour, sound and movement.
In 1919, the Bauhaus master Johannes Itten invited Grunow to hold a lecture at the Bauhaus and recommended her for a position as an assistant teacher. Her free course was originally called the 'Theory of harmony', but Oskar Schlemmer later renamed it the 'Theory of harmonisation'. Both students and masters attended her course, which was so popular in the early years at Weimar that Grunow was listed as the only woman in an official overview of the teaching staff for the Bauhaus exhibition of 1923, in the category of 'masters of form theory'. She was nevertheless at a disadvantage in comparison with her male colleagues, because she worked on a fee basis as a temporary employee until the summer of 1923. Later on, she was awarded a contract as an associate teacher.
In her courses, Grunow taught the equitable and harmonious use of all the senses. She advocated the theory that a person's ability to express himself depends on laws rooted in the personal sense of colour, sound and form. The sensitisation of all sensory organs, mental training and even individual psychological sessions were components of the courses. With her twelve-tone circle of colour, her work established an analogy with the twelve-tone music of Schönberg. In addition, she also explored the correlations of form and colour in a way which may be compared with the courses given by Johannes Itten (preliminary course), Wassily Kandinsky and Paul Klee.
Grunow was among the 'esoterics' at the Bauhaus, a group that included Itten and Lothar Schreyer. With Walter Gropius's orientation towards technology and Itten's departure, she lost her influence and left the Bauhaus in 1924.
Grunow's course held a separate status within the teaching plan and, with its universal approach and its rhythmic-musical exercises, it had a major influence on the orientation of the early Bauhaus. Grunow prepared numerous evaluations of the students that gave recommendations for their assignment to specific workshops.