Sommerfeld House, Berlin
Walter Gropius and Adolf Meyer, 1920–1922
Sommerfeld House in Berlin was built for the industrialist Adolf Sommerfeld during the early, expressionistic phase of the Bauhaus and is regarded as its first collective project. Almost all of the workshops of the Bauhaus Weimar were involved in making the interior fittings and fixtures.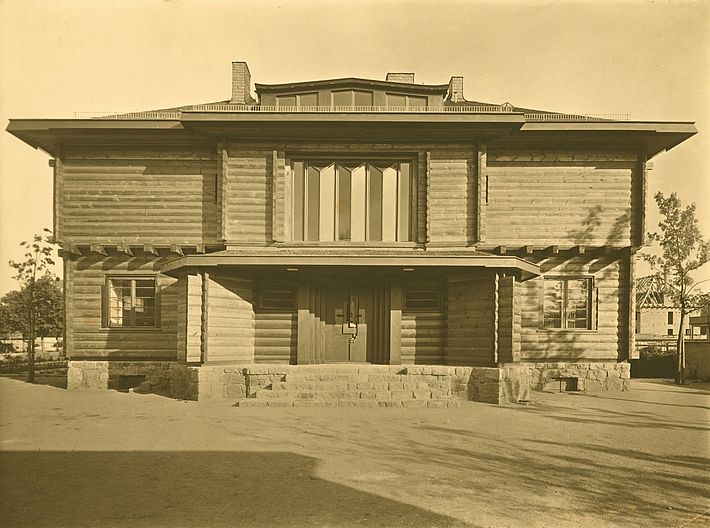 [Translate to English:] headline
In 1920 Adolf Sommerfeld, a Berlin-based building entrepreneur specialising in timber structures, commissioned the architects Walter Gropius and Adolf Meyer to design his private residence. Shortly before, Sommerfeld had bought a large plot of land in the south of Berlin, where, in addition to Sommerfeld House, four detached houses for employees were built. A large office building was also planned, but never realised.
The plans for Sommerfeld House were drawn up in Gropius and Meyer's private office, in which Gropius continued to practice during his time as director of the Bauhaus. As such, the students at the Bauhaus were able to collaborate, in the form of commissions, on a range of construction projects. The first collective project on a larger scale was Sommerfeld House. Here, the vision formulated in the Bauhaus Manifesto of the unity of all arts in the building, was realised for the first time. The laying of the foundation stone and, later, the topping-out ceremony, were thus celebrated accordingly.
The family home was constructed using a "block house" building method recently developed by Sommerfeld's own construction company, Adolf Sommerfeld Bauausführungen. Numerous Bauhaus students were involved in making the interior furnishings and fittings: Joost Schmidt created complex wooden carvings in the entrance hall, in the staircase and on the ends of the timber joists. Josef Albers designed a large stained glass window for the staircase. The furniture was designed by Marcel Breuer, Gropius himself, and Adolf Meyer. Light fixtures, rugs, wall hangings, murals and even covers for the radiators, which were fitted in the house even in those early days, were also made by Bauhauslers.
The only remaining part of the residence of the timber builder and early advocate of the Bauhaus, Adolf Sommerfeld, is the house built for the chauffeur, based on plans by Fréd Forbát. Sommerfeld House itself was completely destroyed in the Second World War.
[NO 2017, Translations: RW]
Literature:
Nerdinger, Winfried (1985): Der Architekt Walter Gropius, Berlin/Cambridge.
Kress, Celina (2011): Adolf Sommerfeld/Andrew Sommerfield: Bauen für Berlin 1910–1970, Berlin.
Droste, Magdalena (1993): Bauhaus 1919–1933, Berlin.
Bergdoll, Barry/Dickerman, Leah (2009): Bauhaus 1919–1933. Workshops for Modernity, New York.