Is Modernity an Attitude?
bauhaus now #1
On November 15, 2017, the official magazine for the Bauhaus Centenary in 2019 appeared in international newsagents. The first edition of bauhaus now deals with modernity as an attitude instead of a style.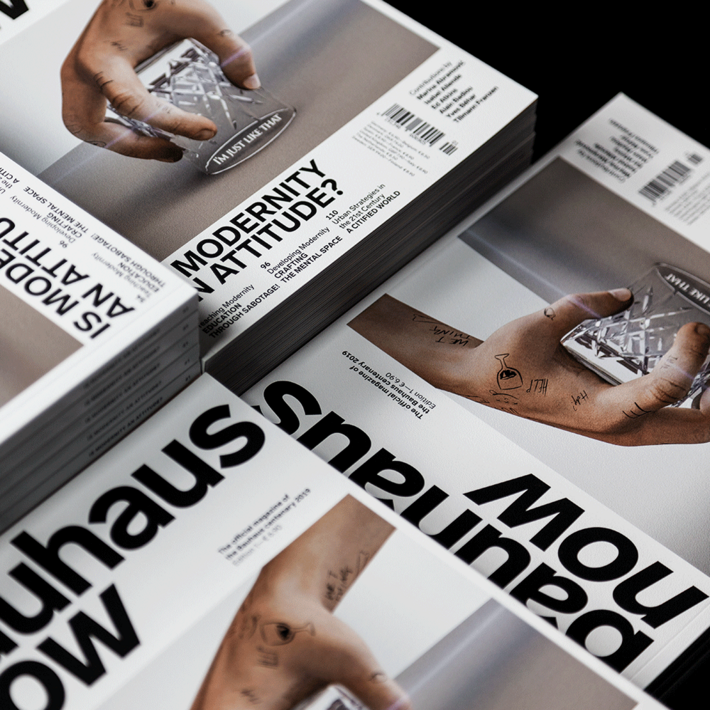 bauhaus now #1
Is Modernity an Attitude?
What are the major design tasks and problems of the 21st century? What do designers work on today? What do they dream of? What challenges confront them? Does the holistic approach of the Bauhaus still offer possible solutions for the future?
In our first issue, we focus on the basic attitude of modernity, its "mindset", its creative spirit, which counters thought that follows fixed paths and pre-established patterns by offering a critical outlook and approach, and by so doing, opens up new creative opportunities and design freedom.
We take you from the "Bauhaus Myth" to the "Bauhaus as a Phenomenon" to the idea and the vision of the Bauhaus that is still conveyed and preserved today.
Throughout 142 pages, numerous well-known figures such as the artist Marina Abramović, the industrial designer Yves Béhar, the virtual reality expert Jessica Brillhart, the philosopher Alain Badiou and the design researcher Rathna Ramanathan trace the image of a multipolar, global movement that belongs to the foundations of contemporary culture.
They use their contributions to examine whether and under what conditions modernity is still a concept with a future – looking at it in a critical as well as passionate and optimistic way.
Publisher: 100 years of bauhaus, Weimar
Design and editing: Stan Hema, Berlin
Distribution: DPV Deutscher Pressevertrieb GmbH, Hamburg
ISSN 2510-5841 (German)
ISBN 2510-585X (English)
€ 6,90 € (Germany)
€ 7.70 (Austria)
SFr. 10.90 (Switzerland)
€ 7.90 (Luxembourg)
Articles from the first edition of bauhaus now: